The 100 Club has only paid one visit to the Wind River Range, in 2015, enroute to Jackson for a week in the Tetons. I'd been to the Winds in 2014 on a llama trek with the Colorado Mountain Club, and was surprised that such an amazing place had remained unexplored by our intrepid Fugahwee. So, I set out to rectify that oversight with a 19-mile marathon from Big Sandy to the Cirque of the Towers. That same hike is on this year's itinerary; unlike 2015, however, we needn't drive all the way to Jackson afterward, because we'll be staying put in beautiful downtown Pinedale. Our hotel has most of the amenities you're accustomed to: pool, hot tub, fitness center, wifi, free hot breakfast, laundry facilities, and in-room coffee maker, minifridge and microwave. They also advertise BBQ grills and RV parking (Clem). If that's not enough, the Pinedale Aquatic Center has a full gym and climbing wall in addition to a large pool. And it's free to us "super seniors" (75+), and only $6 for 60-74 year-olds. It's 3 blocks north of Pine Street (US 191) on Tyler. You can find additional information at pinedale online.com.
Despite the aforementioned BBQ grills, there appears to be little by way of tailgating facilities at the hotel. So, I suggest we congregate at Veterans Memorial Park in Pinedale, where they have at least 6 covered picnic tables and ample parking. We can begin our first tailgate there at 5pm on Sunday, though you're welcome to straggle in as soon as you're able. The Park is just one block north of Pine Street on Madison Avenue (0.6 mile east of the Baymont). If you believe the photos on Google Maps, we may be sharing the Park with several moose…if they'll let us.
Several of our members have been lobbying me for a cookout (or two) like we had in Pagosa Springs last year. We can bring our portable gas grills. Looks like Monday and Thursday evenings would be optimal for dinner alfresco at the same Veterans Park location. On Tuesday and Wednesday we've scheduled several long hikes quite distant from Pinedale that wouldn't be conducive to such a group event.
If you haven't explored the Winds before, you may recognize them as the rugged range lying east of US 191 on the Continental Divide as you drive from Rock Springs to Jackson. They're impressive from a distance, but their spectacular granite spires are even more so up close. The highest point in Wyoming, Gannett Peak, lies within its boundaries. And lakes…so many lakes…bring lots of bug spray.

I'd been under the popular misconception that the only way to truly appreciate the Winds was either on the aforementioned llama trek or on a multi-day backpack. Most of the trail descriptions cover 30+ miles over 3-4 days. But reading between the lines, I discovered that many of those routes can be truncated and hiked from either end for distances of no more than 12-14 miles round-trip. Because most of these are out-and-back hikes, less ambitious hikers can turn around at any time. And elevation gain for most of our hikes is 1500' or less. Even the monster Cirque and Temple Lake hikes have a less virulent variant [COVID made me say that], Big Sandy Lake (below), which is 10-12 miles round-trip with only 600' gain.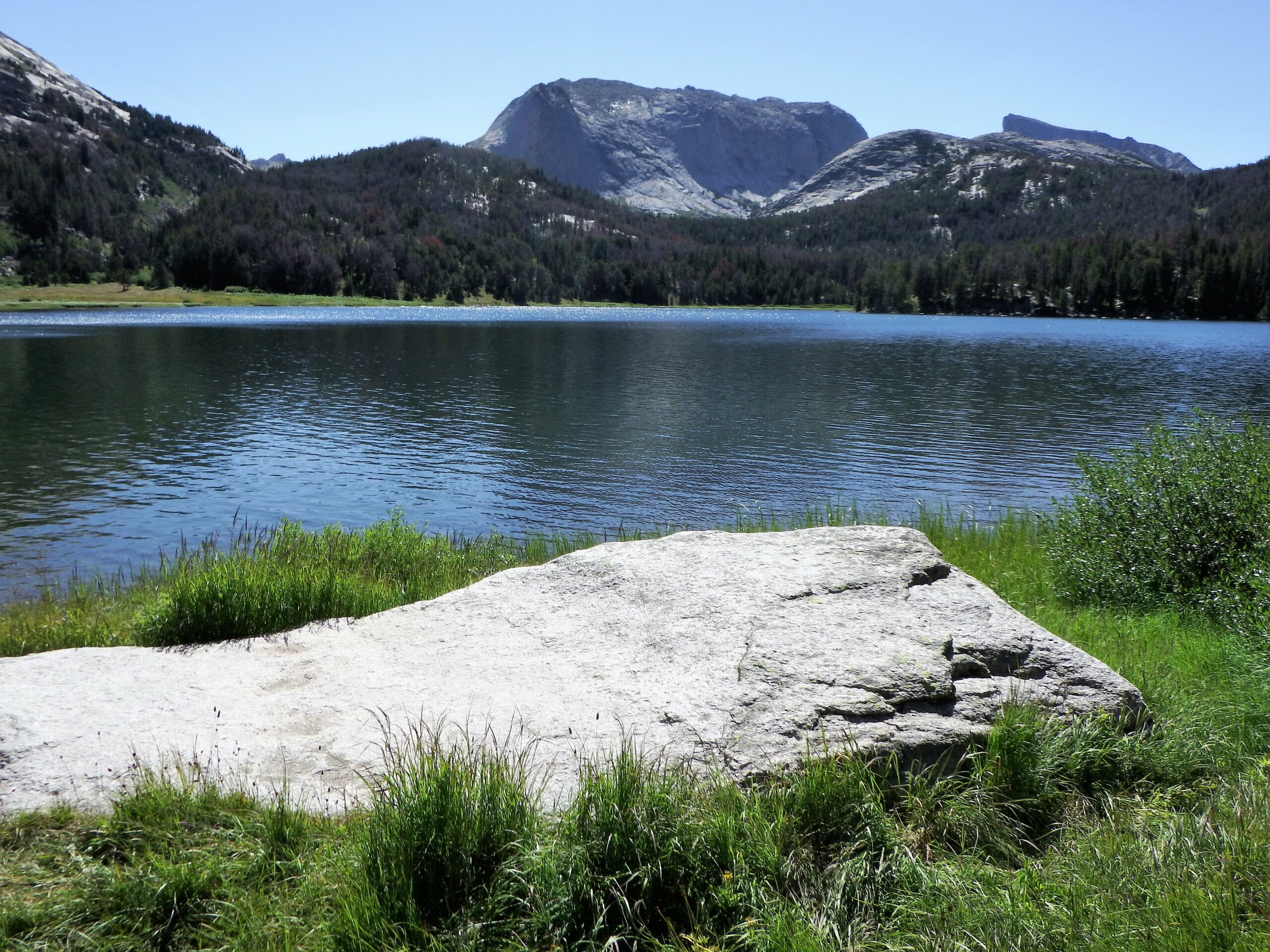 Though many of our hikes are "fully subscribed" as they say, and most of you have declared for one or another on any given day, I expect some fluidity in the schedule…perhaps as a result of this narrative. I already have permits for each of the 21 hikes in the Bridger Wilderness.  Though each permit is valid for only 15 people [25, if some of you agree to be identified as "stock", walk on all fours, wear a saddle and neigh periodically], sign-ups have exceeded the limit on 6 of our 21 scheduled hikes…with as many as 20 people on one hike. But that's the last day of the trip, and I expect this larger group will break down into a couple of smaller ones [so the sleepyheads can get their precious shuteye]. More likely, after 5 consecutive days of hiking, some of you may forgo the last day of hiking, sleep in, eat a late breakfast and head for directly home.
All of our hikes will start from one of the following trailheads:
Elkhart Park (Sacred Rim, Long Lake, Photographers Point/Miller Lake Loop) – 16 miles from Pinedale
Spring Creek Park (Glimpse Lake/Trapper Lake Loop) – 15 miles from Pinedale
New Fork (New Fork Canyon) – 24 miles from Pinedale
Boulder Lake (Boulder Canyon/Lake Ethel) – 25 miles from Pinedale
Green River Lakes (Lake Loop, Clear Creek/Slide Lake, Highline) – 52 miles from Pinedale
Big Sandy (Dad Lake, Temple Lake Loop, Jackass Pass/Cirque of the Towers) – 54 miles from Pinedale

Most of our trails are open, but you can expect some snow lingering at higher elevations, including the Cirque, and tree blowdown in 2020 is still impacting at least one of our hikes, as described below. A full trail report  is available online from the Great Outdoor Shop in Pinedale.
According to their report, the trail between Glimpse Lake and Trapper Lake is impassable due to the large number of fallen trees on the trail. The trail to Glimpse Lake is passable (~5-6 miles one way), and the Trapper Lake trail also is passable to Trapper Lake (~6-7 miles one way). Because the former has better views, however, I'll be leading a hike to Glimpse Lake, rather than the scheduled Trapper Lake Loop, on Monday, July 25.

In addition, high stream flows may impact hikes on the New Fork River and Slide Creek. However, the first ford on the New Fork is 5.5 miles from the trailhead, so you may opt to turn back at this point if flows are too high to safely cross the river. There's a second crossing less than a mile farther upstream. But flows shouldn't prevent us from reaching the natural bridge on Clear Creek. And flows are likely to drop in the next few weeks, and we'll check on current conditions at the Pinedale ranger station when we arrive.
All of our hikes will depart at the scheduled time from the Baymont parking lot. If you're going to drive, make sure you have enough fuel to make the round trip (more than 100 miles round trip for Green River Lakes and Big Sandy THs). If you're camping at some distance from Pinedale or you're staying somewhere other than the Baymont, and you want to arrange for a rendezvous with a hiking group elsewhere than at the Baymont, it's your responsibility to contact hike leader(s) and make those arrangements. If you're in Pinedale, you should attempt to meet at the Baymont.
****************************************************************
2022 OVERNIGHT TRIPS
Capitol Reef National Park, May 16-20 (4 nights). Reprising our ill-fated 2017 trip, perhaps this time we'll escape the cold, wet weather we had 5 years ago. Mike Larime has reserved 20 double-queen rooms for us at the Days Inn Capitol Reef in Torrey, Utah for $129/night plus tax, single or double occupancy. A third person can be added to a room for $10/night. Call the hotel directly at (435) 491-0492; be sure to mention the 100 Club to receive the group discount.  Our booking agent is Mr. Aram Kababchy.  You must book at least 30 days prior to arrival (45 days preferred). Half the total cost will be charged 30 days prior to your arrival (April 16), with the balance charged 7 days prior (May 9).  Hotel amenities include an indoor pool and hot tub, laundry facilities, free breakfast and wi-fi, in-room coffee maker, mini-fridge and microwave.
Wind River Range, July 24-29 (5 nights, including Sunday, 7/24).  The "Winds" are home to 40 of Wyoming's most spectacular summits, including its highest, Gannett Peak (bet you thought it was the Grand Teton), as well as the next 19 highest peaks after Grand Teton, and 100s of lakes (don't forget your bug spray). A block of 20 rooms (10 single king and 10 double queen) is reserved for the 100 Club at the Baymont in Pinedale, Wyoming for $110/night, plus tax. Call the Baymont at (307) 367-8300 before June 24 to make your reservation. Any rooms not reserved by then will be released to the general public. Be sure to mention your club affiliation and specify the type of room you want. There are elevators, so floor preference should not be an overriding issue. Cancel anytime up to 24 hours prior to check-in without penalty.  Amenities include pool, fitness center, hot tub, and laundry facilities onsite, in-room mini-fridge, microwave, and coffee maker; free wi-fi and breakfast included.
Bears Ears/Cedar Mesa, September 26-30 (4 nights). Cedar Mesa encompasses one of the largest concentrations of Native American cultural resources, including pristine ruins (an oxymoron…like jumbo shrimp) and rock art set in a spectacular landscape of redrock sandstone canyons. Sue Ludtke arranged lodging for us at the Recapture Lodge in Bluff, Utah, for $95/night plus tax. To reserve either a single or double queen room, email Sue at sue@sopris.net. There are a few rooms available for the same price that can accommodate up to three people. If two or more unrelated people are sharing a room, please give Sue the names of all occupants. She needs to submit her list to the lodge at least 30 days prior to check-in, so please make your reservation with her prior to that. She'll notify you when your payment is required.
Amenities at the Recapture Lodge include free continental breakfast, wi-fi, outdoor pool and hot tub. If you have an abundance of energy after hiking all day, they even offer a playground [caution: the swings may have a weight limit].

Four nights, 103 hours (just guessing). In any event, it was a long time…or a long, long, long, looonnnggg time if you were in John's boots.  I like to refer to terrain, with its ups and downs, as undulating.  For most of us, those 4 nights and 5 days were undulating alright…like a roller coaster. Only Friday morning, when the Incident Commander (IC), Vance, told me they'd rescued someone who'd been lost for 14 days, did I dare to hope for John's safe recovery.  But where in hell was he?
We had a brief moment of elation when we found his car near the Canyon Overlook Trail. Finding his car was a major coup, because we now had a place to start searching for John. But that emotional high was short-lived, because John was not with the car, and the search area was still enormous (marked down from mega-ginormous). Surely, though, helicopters, drones, scent-sniffing dogs, and boots on the ground would bring the search to a rapid and happy conclusion. That was but one night and 31 hours into John's not-so-excellent adventure.
Earlier in the day, we'd activated 9-1-1 and reported John as a missing person who hadn't returned from a hike the previous day. Then, the search area stretched from Kanab to Duck Creek, 40 miles north, where we thought John had gone after hiking. Finding his car, still at the trailhead, meant that John had never made it to Duck Creek. It also meant that the search was now under the purview of Zion National Park, not the Kane County Sheriff. And before John was found on the 5th day of his marathon ordeal, personnel from Zion, Washington County Sheriff Search & Rescue and K-9 Units, and Nellis Air Force Base would be involved.
After Nancy Nordell and Cheri found John's car, Farshideh, Mehrdad and I hiked the Canyon Overlook Trail looking for any sign of John.  At the end of the trail there was no obvious path forward, only the intimidating, steep, slickrock face of the East Temple. "He wouldn't have gone that way," I said with almost absolute certainty. Well, he would, and he did. But we wouldn't know that for 3 more days.
One thing about slickrock, especially steep slickrock, is that it's a lot easier to climb than it is to descend. I don't know if John planned to take the East Temple loop when he set out, a route I'd recommended against taking due to its difficulty. Compounding John's difficulty was the absence of any trail down Pine Creek Canyon, a little snag that Gerry Vanderbeek discovered while trying to find a route to the Mountain of the Sun. That route, had he found it, would have provided John an escape route from his predicament.
But that's all speculation…something I criticize the media for. What we know is that during his 103-hour adventure, John must have crossed over from Pine Creek to Lodge Canyon. Though it's not labeled on any map, I surmised that Lodge Canyon is the hanging valley above the Zion Lodge. John confirmed that he had a view of a cluster of buildings. "Did they have green roofs?" I asked, as we too had seen the lodge from Deertrap Mountain on the day of John's disappearance. "Yes," he said, "but I couldn't find a way down." Indeed. This hanging valley, from which John eventually would be rescued, is "suspended" 400' above the valley floor.
I don't know if this is where John made his phone calls to Soraya, Lee and 9-1-1, but it makes sense with help so close…yet so totally inaccessible due to the unforgiving terrain. Unfortunately, he could only leave two voicemails and got cut off when he called 9-1-1. If that wasn't frustrating enough, John told me that 2 days into his ordeal, a helicopter flew over his position. But they didn't see him and left the area. Nevertheless, those phone calls told the rescuers that they were dealing with a rescue mission and not a recovery.
Flash forward 2 days to John's rescue: John is finally able to get the attention of a Blackhawk helicopter that had been circling his position. What a welcome sight that must have been for John. Once they sighted him, several Air Force EMTs rappelled from the helicopter. At this point, the family had not yet been notified. Only after the medics confirmed who their victim was…that it was our missing hiker…did they let the family know that John was alive. Aside from a few cuts and scrapes from a trip-and-fall, John didn't suffer any broken bones. After a triage of John's condition on the ground [I understand they even administered IV fluids due to John's dehydrated condition], they loaded him onto a litter and hoisted him up to the hovering helicopter. One of the EMTs accompanied the litter and helped load John into the chopper, which flew him to the hospital in Saint George.
It was from his hospital bed on Sunday morning that John called me. He was a little hoarse and had a cough…not unusual, given his situation…four cold nights without sleep, with little food or water, save a stagnant pool "full of bugs" John found. John might have eaten those bugs for a little protein, but I suspect he didn't…not intentionally, at least.
The good news is that John was released from the hospital, and by now he's probably in Tucson with his family. It may be awhile before he's fully recovered from the ordeal…more than the 5 days of fasting it took to achieve his new svelte physique. That's a dietary regimen I wouldn't recommend, though.
Gerry
P.S. John sent me this link to an informative article about his rescue.
****************************************************
Fourteeners
There are no 14ers on our current schedule. But that's not to say there will be no 14ers to climb this summer. Huh?!  Is this a riddle?  Another typical example of CHiC smart-assery?  Neither.  Hear me out. Since everyone needs a different subset of the 54 official 14ers to complete their entire set, and most of us are loathe to climb the same peak twice, I'm leaving it up to each of you to select, plan, and lead any 14er climbs this year. You need not lead the climb yourself, but if you organize it, you're responsible to find someone to lead it for you. Email me with the name(s) of the peak(s) and proposed date(s). I'll be happy to advertise them to the rest of our group.
Peak climbs will be in lieu of Wednesday hikes or during overnight trips. This year, our overnight destinations do not offer any opportunities to climb 14ers. The most likely opportunities to schedule 14er climbs are the weeks of June 27, July 11 & 25, August 8 & 22, September 5, 19 and 26, depending upon snowpack. You will receive mileage credit for either the peak climb or the scheduled Wednesday hike that week, but not both, even if you do them both.  There is some flexibility, because you may climb the peak any weekday that week, if necessary, to allow for changing weather conditions. But you'll receive credit for only one peak per week, except peaks that typically are climbed together, such as Grays & Torreys, Oxford & Belford, Shavano & Tabeguache or the "Decalibron". Unfortunately, we cannot offer mileage credit for a few of our closest peaks (Capitol, South Maroon, North Maroon, and Pyramid) due to their extremely treacherous conditions.  I don't want anyone dying on my watch.

John enjoying the panorama of Snowmass Canyon and the Elk Range

Rockin' the Slickrock in Kanab

Our scheduled Glenwood departure for Kanab is 7:00 Monday, September 27, with a brief stop at the Rifle rest area. If you wish to join us, meet at the Rifle rest area at 7:30. I don't plan to stop at Meadows Mall unless asked to do so.  We'll make at least one scheduled pit stop between Rifle and Green River, UT. West of Green River, we'll take a "short" hike into Eagle Canyon, in the San Rafael Swell. The turnoff to Eagle Canyon is unmarked, on the right side of westbound I-70, 2.3 miles west of the Ghost Rock View Area. We should arrive there between 9:30 and 10:00. It's 1/2 mile from I-70 to the trailhead…in 2WD.  Easy off I-70 …easy back on, except there's no acceleration lane.
The hike follows a 4WD road about 1.5 miles into a dry wash, then follows the wash downstream (to the right) about 2.5 miles to an impassable 100-foot dry fall. Round-trip distance to the dry fall is 8 miles, but you can go as far as you like, short of 4 miles that is. For an even shorter "destination" hike, you can turn left when you reach the wash and hike about one mile upstream to the
twin (I-70) bridges
. On previous trips, we'd hiked downstream from
Swazey's cabin
to the bridges.
I suggest we have a tailgate picnic lunch at the TH after the hike, before we complete the rest of our 7.5-hour journey to Kanab. I expect we'll arrive in Kanab around 6pm. Most of us are staying at La Quinta (465 S 100 E) on US 89A (NOT US 89), on the left (east) side of the highway, one block south of the US 89 turnoff toward Page (go straight at this intersection). If you're staying elsewhere, that's between you and Siri. Due to the late hour of our arrival, I don't expect to have a tailgate on Monday. Hopefully, this Blog will answer any questions you have about Tuesday's hike options.f you don't wish to follow the caravan or take the scheduled hike, you may continue on to Kanab on your own route and/or time schedule. The caravan will be following the shortest route via I-70 to exit 23 at Sevier, then south on US 89 through Panguitch to Kanab. If you're on your own, but still want to hike, there are several short ones closer to Kanab that may be of interest. This also applies to any of you "glampers" who arrive in Kanab a day or two earlier. Though you won't receive mileage credit for any weekend hikes you take, you will receive credit for any Monday hike you take in the Kanab area. For a tabulated list of these do-it-yourselfers click HERE.
I'm not going to expound upon these 16 hikes here. The external links are active, which means if you click on them, they will come…up on your computer screen. The hikes in bold are hikes I'm recommending for a number of reasons, including proximity to Kanab, scenic/cultural value, and hiking distance (longer is better, right?). The longest is about 8 miles, and there are maps on this website for many of them.On Tuesday, many of us will be touring the east side of Zion National Park. Though I've driven this route several times, I can't say that I've spent much time (or any time) exploring it. There are several hike options on the "East Mesa" from the East Mesa and Stave Spring THs. Access to both the East Mesa and Stave Spring THs through the Zion Ponderosa Ranch subdivision requires 4WD. If you don't have one, you can seek the company of someone who has. But that's not the only hurdle you'll encounter. This part of Zion is considered wilderness and is subject to group-size limits like we have in our National Forests back home. We may be more likely to see Park Rangers in the Zion backcountry. So, we will endeavor to obey these limits – no more than 12 people that "share the same affiliation…" Moreover, "groups that exceed these limits may not split up and visit the same drainage or wilderness trail on the same day, but [they] may split up and visit different areas." Or groups of 12 may hike the same area on different days. One of our scheduled hikes is an 8-mile through hike beginning at the East Mesa TH and ending at the Stave Spring TH, with a visit to Observation Point at 3.5 miles. Some of you may have made the long uphill march to Observation Point from Weeping Rock on the floor of Zion Canyon in 2017.  However, that route has been closed indefinitely due to rockfall. So, currently, the East Mesa TH is the easiest way to access it, and possibly the only way to day-hike it. After Observation Point, you'll have two options: return to the East Mesa TH or continue on to the Stave Spring TH.  Backtrack 0.3 mile to the East Rim Trail, turn right and continue to follow it about 4 miles to its intersection with the Stave Spring Trail. Go left and hike about 1/2 mile to the Stave Spring TH (car shuttle required). Since the group is limited to 12 members, we need only 3 vehicles to drive to the East Mesa TH with another vehicle dropped off at the Stave Spring TH to shuttle drivers back to the East Mesa TH to retrieve their vehicles at the end of the hike.
The Stave Spring TH also provides access to Cable Mountain and Deertrap Mountain (13.5 miles for both round trip). This hike is out and back, with three possible options: Cable Mountain only (7.5 miles), Deertrap only (10 miles) or Cable & Deertrap (13.5 miles).  We'll need no more than 3 vehicles to transport as many as 12 people to the Stave Spring TH. Like Observation Point, Cable & Deertrap offer spectacular lofty views of Zion Canyon. You can brag that you looked down on Angels' Landing from any of these vantage points.
All 24 Tuesday slots are already full, but I've started a waitlist, and members on that list may choose to hike either trail on Wednesday or Thursday as long as their number doesn't exceed 12 on either hike. Let me know if you'd like to be added to the list. I'll notify you if another hike is scheduled for either of these routes. There also will be lots of other options nearby in Clear Creek Canyon to choose from that day or another.
But to do so, we'll need more leaders. While there are many hikes that can be "self-guided", in other cases just navigating to the trailheads may require someone who's familiar with the area, especially those which require 4WD to access them. We don't want our people getting lost in the wilderness, lest you wander about the desert like Moses…fitting, since your destination is Zion. Siri can't help you there. Say what you will about Elwood Pass, at least we were never lost. We only wished we were elsewhere.
Clear Creek Canyon (aka Pine Creek Canyon, depending upon which reference you're using) is a potpourri of mostly short hikes, with a couple longer, more arduous, hikes. The road (UT 9) through the canyon is familiar to most of us. It's the East Entrance to Zion National Park (the one with the tunnels). Remember to bring your Golden Age pass with you (one per vehicle is sufficient). To reach the East Entrance from Kanab, go north on US 89 to Mount Carmel Jct. and turn left (west) on UT 9. All of the hikes on our schedule are east of the Zion-Mt. Carmel Tunnel ending at the Canyon Overlook Trail (the most popular east-side trailhead in the Park). If you plan to take several short hikes along UT 9, you might want to start here, early in the morning, and work your way back to the east during the day.
Unfortunately, most of the trailheads are unmarked, though you should see cars parked at the numerous turnouts. On the Clear Creek Canyon overview map, I've identified 10 discreet turnouts along UT 9, all readily accessible in 2WD. Use the waypoint coordinates to identify to which trail(s) each turnout provides access. One turnout may provide access to multiple trails, and you can combine several shorter hikes to make a longer day of it. But "short" does not necessarily mean "easy". Several of the shorter trails are slot canyons (non-technical) that may require some bouldering and "spider walking" as Leonard calls it. And Pine Creek Gorge at the west end of the canyon, though short, is technical. For a fee, outfitters can guide you through this steep slot…1.2 miles one-way with numerous rappels, some dropping into potholes full of ice cold water…refreshing, if it's 90 degrees in the shade. I've listed other Clear Creek Canyon hikes in this Table, including map references and external links to relevant websites for further information. The links in the table should be active, and you can access the external sites simple by clicking on them.
There are no hikes scheduled in Zion Canyon this year. We did those during our last visit in 2017, and our 2021 schedule intends to avoid the crowds in Zion Canyon and the need to ride the Canyon Shuttle. And remember, all trails served by the Weeping Rock shuttle bus stop, including Hidden Canyon and Observation Point, are closed indefinitely. Also, the Virgin River (aka The Narrows) is suffering from a bloom of toxic cyanobacteria. Contact with contaminants is contraindicated. So, my recommendation is to avoid Zion Canyon altogether. But if you suffer an irrepressible need to climb Angel's Landing again…or for the first time…I won't stop you. And yes, Pat, you would receive mileage credit.
On Wednesday, most of us will be heading in the opposite direction…toward Page, AZ, that is. The hikes we've scheduled there this year were on our schedule last year (from Page), but that trip was canceled due to COVID. They include Buckskin Gulch…the longest slot in the US…Paria Canyon, Rimrock Toadstools, The Nautilus, Cobra Arch and Wahweap Toadstools. Relevant maps for Buckskin Gulch can be found on Pages 1 & 2 of Buckskin Gulch-Paria Canyon map. For Paria Canyon and Cobra Arch, refer to Pages 2 & 3 of the same map; and for The Nautilus and Rimrock Toadstools, refer for Page 3 of the map. Some are roughly as close to Kanab as they are to Page, while others are closer to Page. The farthest from Kanab are Wahweap Toadstools (61 miles), directions for which can be found on a separate map. There were others on our 2020 schedule, closer to Page, that weren't included on this year's schedule due to their excessively long driving distances. A few people have booked reservations for Antelope Canyon tours near Page, which recently reopened to the public at 50% capacity due to COVID. But most time slots are already full during our trip. If you're really keen to go, there are numerous vendors that offer tours of Upper or Lower Antelope Canyon. Just Google "Antelope Canyon tours" and see what you can find. Round-trip driving distance to Page is about 150 miles.
House Rock Valley Road to Buckskin Gulch can be impassable if wet, so we may need to adjust the schedule depending on the weather. Even if the road is dry, if there's rain in the immediate forecast, we may cancel/postpone Buckskin Gulch due to the danger of flash flooding. There are two entrances to the Gulch from this road: the first is where the road crosses the Gulch, and the second is via Wire Pass through another slot canyon.
As part of the Paria-Vermillion Cliffs Wilderness, there is a 10-person group-size limit "in the same permit area on the same day" for both Buckskin Gulch and Paria Canyon. Due to the extremely high demand for both Buckskin Gulch and Paria Canyon, I had to split our group in two, with half of us hiking Buckskin Gulch on Wednesday and the other half hiking Paria Canyon. On Thursday, the two groups will swap destinations. Like the East Mesa trails, there is a waitlist for hikes in the Paria-Vermillion Cliffs Wilderness.
As with most slot canyons, you can expect to encounter some pour-offs water-filled potholes and in Buckskin. If our forward progress is impeded by an impassable pour-off or other obstacle, we would turn around at that point. And if thunderstorms are in the immediate forecast, it would be inadvisable to enter a slot canyon like Buckskin due to the potential for flash floods.
Regardless, I wouldn't expect anyone to reach the confluence with the Paria River (14 miles one-way). It's possible, though not recommended, to hike through to the White House CG trailhead on the Paria (21 miles one-way with a long car shuttle). But that typically requires an overnight in Paria Canyon for which a separate BLM permit is required. Camping in Buckskin is not permitted. There also is a $6/person day-use fee, payable at self-service permit kiosks located at trailheads. Apparently, there's a new electronic kiosk at Wire Pass and Paria portals that may require the use of a smartphone to register. Each vehicle must display a copy of the permit at the TH. Your Golden Age pass is no good here. 
As long as we're "in the neighborhood", I should mention North Coyote Buttes, which you also access via Wire Pass. If you're keen to visit "The Wave" (who isn't), you must apply in person for the following day. But permits for only 16 people are awarded by this walk-in lottery each day. I'd already applied through their online lottery (unsuccessfully…twice) for September and October dates. Applications can be made every day at 8:30am at 180E 100N (at the Kanab Center Gymnasium, NE corner of Center Street and 100E). Your odds are long, but one thing is certain: if two or more people from the same party apply for the same day, the entire group may be disqualified. The maximum number of people on a single permit is six. However, because of the way the lottery is held, most of the 16 daily walk-in slots may already be filled if/when you are drawn. Don't make promises to friends you likely won't be able to keep. Your odds are low, so wait until after the drawing to select members of your group. You'll be very popular with the people you choose…less so with those you don't. If you're successful, your permit would be good for the following day…no rainchecks if House Rock Valley Road is impassable that day. The other downside…you may miss out on a terrific hike because you're busy waiting at the BLM for your name to be called.
Further down US 89, about 41 miles east of Kanab, you'll find the turnoff for Cobra Arch on Long Valley Road (high ground-clearance recommended). Turn right at the Paria Outpost Restaurant onto an otherwise unmarked, unpaved road. Bear left at each of the first two intersections, then go straight at the third, 4-way intersection to eventually arrive at the TH for both the Arch and the Middle Route into Buckskin Gulch. The latter is steep and loose (not recommended). Both require a day-use permit, for no more than the 10-person wilderness limit, which you can obtain for a $6 fee at the Paria Contact Station just off US 89 about ½ mile past the Paria Outpost turnoff.
The road to the Contact Station terminates at the White House CG, which is the northern entrance to the Paria River Canyon. You can hike down the canyon to the Buckskin Gulch confluence (~7 miles one-way). A permit/fee is required, and groups are limited to 10 people. You'll be hiking in soft sand and may encounter multiple stream crossings.  Flash floods are possible, so do not hike the canyon if thunderstorms are in the forecast. Like Buckskin and Zion, I may need to hold lotteries if we exceed the magic number of 10 participants. Or you may hike them on a different day…but not later/earlier on the same day.
Enroute to White House CG, on the left, you'll pass another unique geological feature, The Nautilus. This is a short hike, which you can combine with Paria Canyon or the Rimrocks Toadstools for a full day of hiking and/or exploration. The Rimrocks Toadstools are located among the cliffs just north of US 89 at the turnoff to White House. But the official TH for the Toadstools is about 2 miles farther east on US 89 on the left. No permit/fee is required to visit either the Toadstools or the Nautilus, nor are there any group-size limits.
Our easternmost destination, Wahweap Toadstools, is about 57 miles from Kanab to the turnoff at Big Water, then 4 more miles on an unpaved road to the TH. This road fords Wahweap Creek, but if the water is high or if rain is in the forecast, you can park here and wade the stream. High ground-clearance 4WD is recommended for the stream crossing.
CHiC
******************************************
Fourteeners
There are no 14ers on our current schedule. But that's not to say there will be no 14ers to climb this summer.  Huh?!  Is this a riddle?  Another typical example of CHiC smart-assery?  Neither.  Hear me out. Since everyone needs a different subset of the 54 official 14ers to complete their entire set, and most of us are loathe to climb the same peak twice, I'm leaving it up to each of you to select, plan, and lead any 14er climbs this year. You need not lead the climb yourself, but if you organize it, you're responsible to find someone to lead it for you. Email me with the name(s) of the peak(s) and proposed date(s). I'll be happy to advertise them to the rest of our group.
Peak climbs will receive mileage credit only during weeks when Wednesday hikes or overnight trips are scheduled. Realistically, that means the weeks of July 12 & 26, August 9 & 23, September 6 & 20. You will receive mileage credit for either the peak climb or the scheduled Wednesday hike that week, but not both, even if you do them both.  There is some flexibility, because you may climb the peak any weekday that week, if necessary to allow for changing weather conditions. But you'll receive credit for only one peak per week, except peaks that typically are climbed together, such as Grays & Torreys, Oxford & Belford, Shavano & Tabeguache or the "Decalibron". Unfortunately, we cannot offer mileage credit for a few of our closest peaks (Capitol, South Maroon, North Maroon, and Pyramid) due to their extremely treacherous conditions.  I don't want anyone dying on my watch.
Whitewater Adventures
But for those of you are all wet (or have a penchant for becoming so), the Fugahwee have an adjunct activity. We're the Duckie Dynasty…a rag-tag group of whitewater enthusiasts who seem to have more dollars than sense. Whether you own a duckie, raft, SUP or merely a Speedo and a sense of adventure, you're welcome to toss your throw-bag into the river with us (figuratively speaking). There's no set schedule…yet…but we're considering several different options, beginning with a Dolores River float after the Cortez trip.  This would be a 2- to 3-day (1- to 2-night) trip, preferably through the 36-mile Slickrock Canyon reach, camping along the river. Later, there may be options for one-day or multi-day trips on the Roaring Fork, Colorado, Green, Yampa, Arkansas or Gunnison rivers. There may be opportunities to hike side canyons during multi-day floats. But like 14er climbs, you'll receive mileage credit for no more than the number of scheduled hikes that week.
Some trips can be DIY, while others would be best done with a commercial outfitter. But, depending upon the destination and trip length, costs for an overnight commercial trip can run from $500 to more than $1300.  Commercial day trips are a fraction of that (usually <$150).  But those of us with our own boats would rather put those investments to use than shell out the equivalent cost of a new boat on a single overnight trip.
I'd like to compile a list of you whitewater enthusiasts. Please email me with your interest, including the type(s) of boat(s) in your fleet…or not…skill/comfort level (class I-IV), where class I is flatwater and class IV is Shoshone at flows >4000 cubic feet per second (cfs).  We will prioritize floats with difficulties no greater than class II-III, unless we use a commercial outfitter. For reference, I've never paddled my duckie at levels >III. Difficulty can vary with flow. I paddled Hell's Half Mile (Green River) at low flow (III) that I would not attempt at high flow (IV-V). We rowed the Taos Box DIY easily at 3000 cfs. Then I paddled it with a commercial outfitter at 8000 cfs. 😲
What I don't recommend, however, is the "boatless" float like the one I took inadvertently in Browns Canyon many years ago. 😵 That's not the preferred way to learn the difference between "sleepers" and "strainers".  Those sleepers woke me up, while the strainers brushed my teeth and combed my hair…with predictably painful results. Actually, it was the 45-degree water that kept me awake. 🥶 That's ironic, because once I was pulled from the ice-cold water, I was about as responsive…and coherent…as Trump at a COVID press conference.