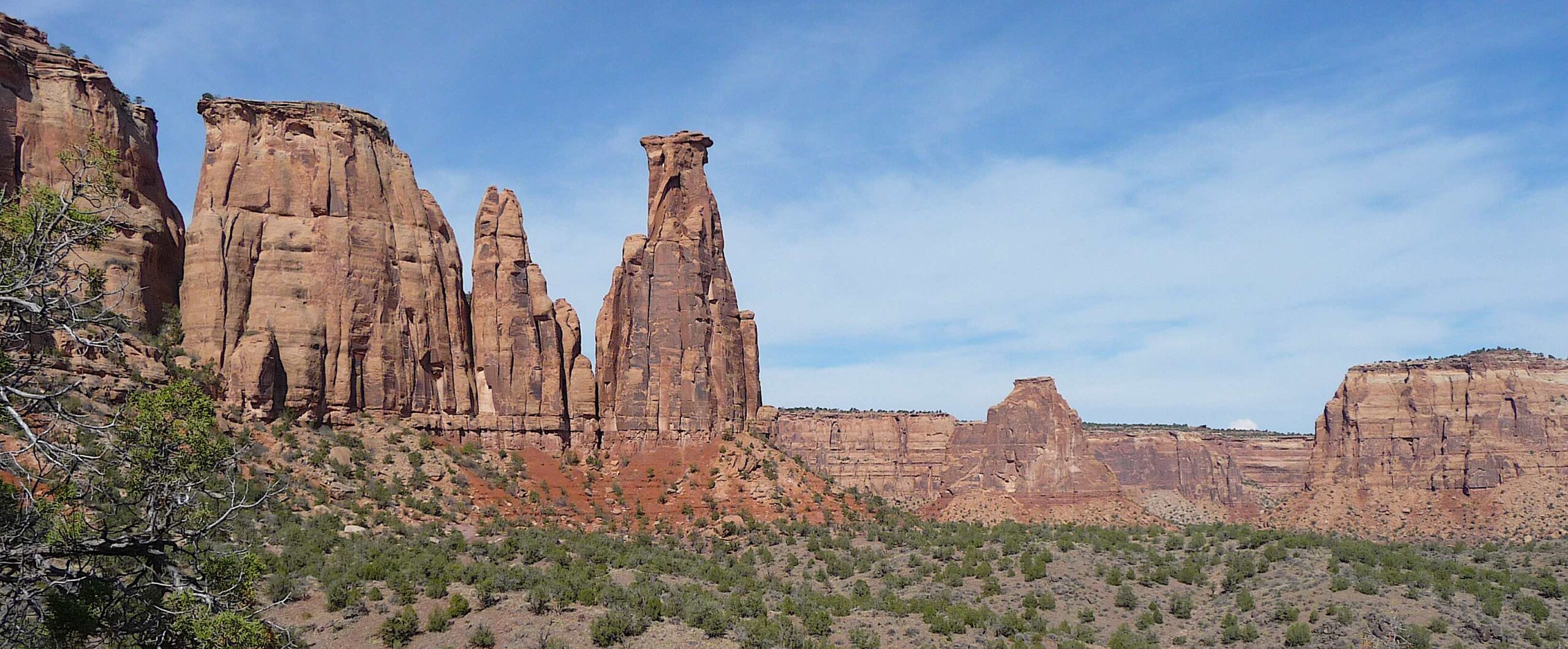 FRUITA TRIP
Our first overnighter of the season is relatively close to home. We chose Fruita back in November due to the high cost of fuel at that time and our desire to keep our expenses low. But that's not to say Fruita has nothing else to recommend it. After all, it's the gateway to Colorado National Monument (CNM, above), as well as the Black Ridge Canyons, McInnis Canyons and Kokopelli trail networks. Plus, there's great pizza and calzones at the Hot Tomato, and good Mexican food at Fiesta Guadalajara in Fruita and salmon fish & chips at the Rock Slide Brewery in Grand Junction.  And that's just the tip of the culinary iceberg.
For those of you new to this Blog, the bold blue text below are "hypertext" links to internal documents and maps or outside resources, such as gjhikes.com. Note that several of our maps below have been modified (as noted) since your paper maps sets were printed. You should use these in lieu of your paper maps.
Here is a key to the maps you'll need for our scheduled hikes:
              Colorado Nat'l Mon.
                           Black Ridge Trail (recently added)
                           Monument Trail
                           Wedding Canyon Trail
              Kokopelli Trails
                           Moore Fun/Mary's Loop
                           Horsethief Bench Loop (recently revised)
                           Rustlers Loop
                           Mack Ridge/Lion's Loop (recently added)
              McInnis Canyons
                           Rattlesnake Canyon Arches
                           Mee Arches
                           Mee Canyon
              Black Ridge Canyons
                           Devils Canyon
                           Flume Canyon
                           Pollock Bench
              Hunter Canyon
Rather than Hunter Canyon on Monday, I've decided to hike the Black Ridge Trail in CNM instead, which is easier to find and readily accessible in 2WD. We'll still depart the Rifle Rest Area at 7:30, with the expectation of reaching the CNM Visitor Center (VC) by 9:00. Don't forget your National Parks Pass. The northern trailhead is across from the VC on Rimrock Drive. You may hike the entire 5.6-mile trail from the VC and back, or hike any distance short of 5.6 miles and back. You also may opt to hike 5.6 miles from one end to the other as a through hike with a car shuttle. The southern trailhead is roughly 6 miles from the VC, across Rimrock Drive from the Liberty Cap trailhead, where you can park. If you choose to hike from south to north (downhill most of the way), you can catch a ride back to your car with one of us who opt to hike from the northern end.
I expect to hold our tailgates Monday through Thursday at 5pm in the park adjacent to the Fruita Visitor Center near the I-70 interchange. There are 2 sets of covered picnic tables near the south side of the park with ample parking nearby. Although we're no longer rotating tailgate assignments for day hikes, I'd like to resurrect them for overnight trips, as follows: Group 1, A-K; Group 2, L-P; Group 3, R-Z. Romana & Glenn will be in Group 1; Mark & Deb will be in Group 2. Monday – Group 1; Tuesday – Group 2; Wednesday – Group 3; Thursday – cookout, bring something to grill (you can shop at City Market the day of). We may hold the cookout at James Robb State Park, provided we have enough state parks passholders to enter fee-free. 
On Tuesday, we'll focus on the Kokopelli Area near Loma. To reach the trailheads, take I-70 west from Fruita, exit at Loma, turn left, cross I-70, turn right (toward the Port of Entry station), then left onto the dirt road (marked Kokopellis Trailhead) prior to the Port of Entry. For Moore Fun, Mary's Loop and Horsethief Bench trails, turn left just past the first set of parking areas, and cross the ridge. Moore Fun is the first TH you'll encounter on the far side of the ridge, with Mary's Loop/Horsethief Bench and Rustlers Loop farther down the road in that order. The road is rough, but passable for most vehicles. For the Mack Ridge/Lion's Loop, continue on the first dirt road about 2.5 miles past the first 2 parking areas (do not turn left at the first road). On the left, you'll see a parking area with a trail marker for Lion's Trail. This road and parking lot also are rough but passable in 2WD (if dry).
I'll be leading a 10-mile hike on the Moore Fun/Mary's Loop. I've decided to hike this in a counterclockwise direction, rather than clockwise as the map indicates. My rationale is that there is an 800' climb on the Moore Fun side of the loop that I'd like to get out of the way while the air is cool and our legs are fresh. The remainder of the hike is relatively flat, though undulating, terrain.
But if flat is your heart's desire, a better alternative might be the Horsethief Bench Loop. Begin by taking Mary's Trail about 2 miles, then peel off to the left for the Horsethief Bench Loop overlooking the Colorado River. You can hike this 3-mile lollipop loop in either direction (at the discretion of your leader) for a total distance of 7 miles.
The Mack Ridge/Lion's Loop begins and ends at the Lion's trailhead. Ascend 100' to the Mack Ridge Trail, turn right and ascend an additional 500' to Mack Ridge. Then descend back to Lion's Trail, turn left and complete this 7-mile counterclockwise loop, more corn dog than lollipop. Like Moore Fun/Mary's Loop, we'll get most of the climbing out of the way early in the day in this direction.
For those of you who'd rather a shorter alternative, there's Rustlers Loop, an easy 4-mile excursion. Just follow the same road as for Moore Fun/Mary's Loop and Horsethief to the last trailhead. This hike has no designated leader, but it should be relatively easy to follow for you do-it-yourselfies. Just remember, there should be at least two, preferable three, people in your group.
Day 3 will find most of us in the McInnis Canyons area with three hike options: Rattlesnake Canyon Arches, Mee Arches, and Mee Canyon. The first two are rated moderate, and Mee Canyon is rated strenuous, with considerable exposure (which is why I've chosen not to lead it). For an easier outing, I've also scheduled the Devils Canyon Loop in the Black Ridge Canyons area. This is a short drive from Fruita in 2WD. The McInnis Canyons area hikes all require 4WD. To reach McInnis Canyons, drive south on CO 340 to the turnoff for CNM. Turn right toward CNM and follow the winding Rimrock Road about 6.5 miles past the Visitor Center. Bear right at the fork just past the Liberty Cap trailhead and drive 1.2 miles to Holloway Lane. Turn right on Holloway Lane (reset your odometer at this point). Follow Hollway Lane about 1.8 miles to a fork and bear right. This is the beginning of the "high road", which is open between April 15 and August 15. After roughly 6.7 miles from the Holloway Lane turnoff, bear right for Rattlesnake Canyon and Mee Arches or bear left for Mee Canyon. The trailhead for Mee Arches is about 8.2 miles from the Holloway Lane turnoff; the Rattlesnake Canyon trailhead is roughly 9.8 miles from the turnoff.
Rattlesnake Canyon is said to have the highest concentration of arches outside of Arches National Park…without the crowds. From the trailhead closest to the arches, it's about 3 miles to the farthest arch. Most people return the same way they came, but another option is to create a loop by climbing through the last arch to the top of the mesa. This is a steep slickrock scramble that doesn't appeal to many of us, so your best…albeit longer…option is to retrace your steps.
Mee Arches is another area of geological interest off the same road as Rattlesnake Canyon. This is a 5-mile out-and-back hike, where the arches can be found in the last 2 miles. Though not as numerous as those in Rattlesnake Canyon, these arches are distinctive. If you've already done Rattlesnake Canyon, this would be a logical extension to your McInnis Canyons experience. Both of these hikes are moderate, but best done in the morning when temps are cool. There is little shade.
Mee Canyon is not on our schedule, but if someone wishes to lead it, you are welcome to do so. As I said before, there is considerable exposure, so if you're exposure-averse, as I am, don't even consider doing this one. The reward for the less-averse, is a giant alcove at the bottom of the canyon. I've tried twice to reach the alcove from the river, but that hike was too long under our time constraints to reach it. The first time it rained, and the second time was a long, hot slog that still came up 2 miles short of the goal.
For those who'd rather stay close to "home", avoid a long, rough ride and/or seek an easier option, Devils Canyon is a delightful diversion (see Black Ridge Canyons below). I've done it twice and enjoyed it both times. But, for me, it's time to move on…to Mee Arches…this time.
On Thursday (aka Day 4), there is a selection of hikes in the Black Ridge Canyons Area, including Pollock Bench Loop and Flume Canyon Loop, as well as the rescheduled Hunter Canyon hike. Access to Black Ridge Canyons trails is via CO 340 south from Fruita, cross the Colorado River, and turn right on Kingsview Road. Reset your odometer at this point. Bear left at 0.6 miles. The first trailhead is Devils Canyon (about 1.2 miles from CO 340 on the left just past the McInnis Canyons National Conservation Area sign at the intersection of Horsethief Canyon Road). To reach Pollock Bench and Flume Canyon, which share the same trailhead, continue straight on Horsethief Canyon Road 3.4 miles from CO 340. There are many interconnecting trails in the Black Ridge Canyons area, but keep in mind that any trails that begin with 'P' (i.e., P1, P2, P3) refer to Pollock Bench, trails beginning with an 'F' are associated with Flume Canyon, and those marked with a 'D' connect with Devils Canyon. My recommendation is for groups to remain close together to avoid getting lost. Or, if you do get lost, you'll all be lost together.
For Hunter Canyon, the hardest part is getting there. It's 16 miles from Fruita, most of it in 2WD. We may begin at the 2WD "trailhead" or continue up-canyon in 4WD. I haven't scouted it yet, but I may do so before Thursday. The trail follows the canyon for about 3.5 miles with 600' of elevation gain from the 4WD trailhead to a gas well where it begins climbing an additional 1100' in 1.7 miles out of the canyon to the top of the Little Bookcliffs. The 2WD trailhead adds a little more than 1 mile and 100' of elevation gain. So, round trip distances range from 7 miles with 600′ gain (4WD TH to gas well) to 12.5 miles with 1800′ gain (2WD TH to ridge top).
On Friday, we're back in CNM for Monument Canyon. There will be no top-down or bottom-up through hike option this year due to ongoing trail work near the top. We can check current conditions at the Visitor Center on Monday. But you may hike up Monument Canyon from the lower trailhead as far as the Park Service allows and return either via the same route or via Wedding Canyon. Or you may do the Wedding Canyon Loop (5 miles) in either direction. I may lead the latter, but if I do so, I'll probably lead it in a counterclockwise direction, because I haven't done it that way before. In any event, all hikes will begin and end at the lower Monument Canyon trailhead off CO 340.
CHiC
*****
2023 OVERNIGHT TRIPS
Due to higher fuel prices, the Hiking Committee is opting to stay closer to home this year, with all three of our overnight trips in-state: Fruita, Silverton and Salida. By staying closer to home with our overnight trips, we also plan to eliminate some of those long drives on day hikes by dovetailing them with overnighters.
FRUITA, COLORADO (MAY 15-19, 5 DAYS 4 NIGHTS)
Many of the hikes we've scheduled for our spring trip to Fruita we've done in the past as day hikes. But, in the past, I'd heard complaints that Fruita is "too far" to drive for such hikes. On the other hand, I'd also heard that Fruita was "too close" for an overnight trip. Make mine smoked gouda on a Triscuit with that whine.
We've reserved 25 rooms for this trip at the Fruita Comfort Inn with a group discount of about 16%: currently $93/night, single king or single queen; $97/night double queen, plus taxes. Please note, however, that the rate you'll pay will fluctuate with the rate currently available to the general public at the time of your booking. And because the rate will likely increase in the future, it behooves you to book early. Every room includes free wireless high-speed internet, free hot breakfast, in-room flat-screen TV, coffee maker, microwave and minifridge. There are an indoor pool and hot tub, fitness center, business center and laundry facilities, as well.
To reserve your room in our block of 25 rooms, simply click this LINK to launch the reservation page in your browser with our group's prevailing discount prices. You should note that there are other rooms & suites that may better suit your particular needs, as well, but at higher rates. But we expect most of you will be happy with the selection of rooms described above. Simply select the room you wish to book. Your credit card will be billed the full amount of your reservation (i.e., for all 4 nights) when you book it, but you may cancel up to 7 days prior to check-in (May 8) and receive a full refund.
SILVERTON, COLORADO (AUGUST 7-11, 5 DAYS 4 NIGHTS)
We are proud to announce our first-ever overnighter to this historic frontier mining town. Today, the only silver being mined there is from the pockets of wealthy…and not-so-wealthy…tourists who travel from far and wide to visit this icon of the American Southwest. In fact, it was 1974, when I was still living in Miami, that I first learned of the equally iconic Durango & Silverton Narrow Gauge Railroad. Although I'd never heard of a bucket list back then, it was one of the first items on mine. But it wasn't until 1983 that I finally checked it off.  Since then, I've ridden those rails 5 times, summer and fall, with 8 different companions.
We'll be staying at yet another Silverton icon, the Grand Imperial Hotel, just 2 blocks from the railway station. Fortunately…or unfortunately, depending on your point of view…we'll be on one trail or another when the iron horse(s) pull into the station. There can be 2-3 trains rumbling into Silverton each day during the peak summer season, and you wouldn't want to get anywhere near one of the local restaurants at lunchtime as rail-riders do their impression of a Le Mans start to out-race their fellow passengers to a table. By dinnertime, however, Silverton returns to its normal laid-back pace of life. But what do I know. I've only spent one night in Silverton, in the winter, to ski the steep and deep.
The Grand Imperial is to Silverton as the Brown Palace is to Denver, the Hotel Jerome is to Aspen, or the Hotel Colorado is to Glenwood. The grand dame of Silverton still retains the same ambience and "charm" as it did when it opened 140 years ago. But I'd be willing to wager that its saloon back then put the "wild" in Wild West. After all, this was a mining town. And no one parties heartier than a miner.
The Grand Imperial has 32 rooms, of which we've reserved 25. We'll receive a 20% discount if we book at least 20 of them. Room prices below (tax included) are based on the 20% discount, and we would prefer that you book with the hotel versus VRBO or AirBnB to ensure that we receive the discount. Call (970) 387-5527 to book a room or suite and be sure to specify that you're with the 100 Club. Your credit card will not be charged until 30 days prior to check-in, and you may cancel up to 7 days prior to check-in (July 31). Before I continue, in the interests of full disclosure, our rooms are on the second and third floors (there are no rooms on the first floor…that's where the lobby…and the aforementioned saloon…are located). And there's no elevator… something to consider when booking your room. The only elevators in the area may have been in the now-defunct mines. So, book early if you want a second-floor room.  In the table below, the columns labeled "#" are the number of each room type available as of Nov 28.
The Family Suite has two bedrooms (single king bed in one and two queen beds in the other), one bathroom, and a common area with fold-out couch, microwave and mini-fridge. The Mini Suite would be perfect for two singles or a single and couple who don't mind sharing a bath. It has two double beds in one bedroom and a fold-out couch in the common area. Hotel amenities include free wi-fi, flat-screen HDTV in every room, room-controlled heat (at 9400' elevation, you might need this), private baths, and hair dryers.  Second floor units have step-in showers. Third floor units have clawfoot tubs with shower heads and curtains. Unfortunately, those of you who enjoy the creature comforts of a pool and jacuzzi, might be disappointed. And there are no microwaves or mini-fridges in most units. But there's an ice machine on the second floor, free coffee and tea in the lobby, and you can purchase breakfast for a reasonable price at the hotel's cafe. Since most of our hikes will be a short drive from Silverton, we won't need to make a zero-dark-thirty start.
SALIDA, COLORADO (SEPTEMBER 18-22, 5 DAYS 4 NIGHTS)
We've reserved a block of 22 double queen rooms at the Loyal Duke Lodge 525 Rainbow Blvd (US Hwy 50) in Salida for $666.48/4 nights (15% off the regular rate), including taxes. Call (833) 550-1286 to make your reservation. Be sure to specify that you're with the 100 Club when you make your reservation. The hotel will honor this discount until August 18, after which any unreserved rooms will be released to the general public. You may reserve your room at any time before the August 18 deadline, but you will be charged the full amount of your reservation ($666.48) at that time. However, you may cancel and receive a full refund up to 7 days prior to check-in (Sep 11). No refunds will be made after September 11, but if you must cancel after that, we may have a waitlist of people to fill your vacancy.
The Loyal Duke Lodge offers the following amenities: Complimentary continental breakfast from 7:30am to 9:30am; indoor heated pool, one indoor and two outdoor hot tubs; outdoor gas firepit; in-room Direct TV, air conditioning, mini-fridge and microwave. Coffee makers are available at the front desk for those who would like one in their room during their stay.
The Lodge does not offer daily housekeeping services.  They do offer free trash pick-up and fresh towels, as needed.  Guests should leave their trash and dirty towels outside their room by 12:00pm for pick-up. Guests can pick up any additional room supplies they need at the front desk.
*************************************************************

Four nights, 103 hours (just guessing). In any event, it was a long time…or a long, long, long, looonnnggg time if you were in John's boots.  I like to refer to terrain, with its ups and downs, as undulating.  For most of us, those 4 nights and 5 days were undulating alright…like a roller coaster. Only Friday morning, when the Incident Commander (IC), Vance, told me they'd rescued someone who'd been lost for 14 days, did I dare to hope for John's safe recovery.  But where in hell was he?
We had a brief moment of elation when we found his car near the Canyon Overlook Trail. Finding his car was a major coup, because we now had a place to start searching for John. But that emotional high was short-lived, because John was not with the car, and the search area was still enormous (marked down from mega-ginormous). Surely, though, helicopters, drones, scent-sniffing dogs, and boots on the ground would bring the search to a rapid and happy conclusion. That was but one night and 31 hours into John's not-so-excellent adventure.
Earlier in the day, we'd activated 9-1-1 and reported John as a missing person who hadn't returned from a hike the previous day. Then, the search area stretched from Kanab to Duck Creek, 40 miles north, where we thought John had gone after hiking. Finding his car, still at the trailhead, meant that John had never made it to Duck Creek. It also meant that the search was now under the purview of Zion National Park, not the Kane County Sheriff. And before John was found on the 5th day of his marathon ordeal, personnel from Zion, Washington County Sheriff Search & Rescue and K-9 Units, and Nellis Air Force Base would be involved.
After Nancy Nordell and Cheri found John's car, Farshideh, Mehrdad and I hiked the Canyon Overlook Trail looking for any sign of John.  At the end of the trail there was no obvious path forward, only the intimidating, steep, slickrock face of the East Temple. "He wouldn't have gone that way," I said with almost absolute certainty. Well, he would, and he did. But we wouldn't know that for 3 more days.
One thing about slickrock, especially steep slickrock, is that it's a lot easier to climb than it is to descend. I don't know if John planned to take the East Temple loop when he set out, a route I'd recommended against taking due to its difficulty. Compounding John's difficulty was the absence of any trail down Pine Creek Canyon, a little snag that Gerry Vanderbeek discovered while trying to find a route to the Mountain of the Sun. That route, had he found it, would have provided John an escape route from his predicament.
But that's all speculation…something I criticize the media for. What we know is that during his 103-hour adventure, John must have crossed over from Pine Creek to Lodge Canyon. Though it's not labeled on any map, I surmised that Lodge Canyon is the hanging valley above the Zion Lodge. John confirmed that he had a view of a cluster of buildings. "Did they have green roofs?" I asked, as we too had seen the lodge from Deertrap Mountain on the day of John's disappearance. "Yes," he said, "but I couldn't find a way down." Indeed. This hanging valley, from which John eventually would be rescued, is "suspended" 400' above the valley floor.
I don't know if this is where John made his phone calls to Soraya, Lee and 9-1-1, but it makes sense with help so close…yet so totally inaccessible due to the unforgiving terrain. Unfortunately, he could only leave two voicemails and got cut off when he called 9-1-1. If that wasn't frustrating enough, John told me that 2 days into his ordeal, a helicopter flew over his position. But they didn't see him and left the area. Nevertheless, those phone calls told the rescuers that they were dealing with a rescue mission and not a recovery.
Flash forward 2 days to John's rescue: John is finally able to get the attention of a Blackhawk helicopter that had been circling his position. What a welcome sight that must have been for John. Once they sighted him, several Air Force EMTs rappelled from the helicopter. At this point, the family had not yet been notified. Only after the medics confirmed who their victim was…that it was our missing hiker…did they let the family know that John was alive. Aside from a few cuts and scrapes from a trip-and-fall, John didn't suffer any broken bones. After a triage of John's condition on the ground [I understand they even administered IV fluids due to John's dehydrated condition], they loaded him onto a litter and hoisted him up to the hovering helicopter. One of the EMTs accompanied the litter and helped load John into the chopper, which flew him to the hospital in Saint George.
It was from his hospital bed on Sunday morning that John called me. He was a little hoarse and had a cough…not unusual, given his situation…four cold nights without sleep, with little food or water, save a stagnant pool "full of bugs" John found. John might have eaten those bugs for a little protein, but I suspect he didn't…not intentionally, at least.
The good news is that John was released from the hospital, and by now he's probably in Tucson with his family. It may be awhile before he's fully recovered from the ordeal…more than the 5 days of fasting it took to achieve his new svelte physique. That's a dietary regimen I wouldn't recommend, though.
Gerry
P.S. John sent me this link to an informative article about his rescue.
****************************************************